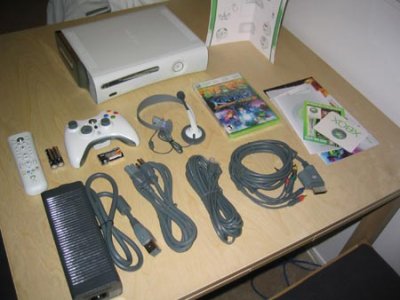 It's coming closer…closer…CLOSER!
by the way: AnandTech takes one apart…
On the way back home I came past a house where one particular window attracted my interest. A huge 1337 is in bright letters in that window. Obviously some elite hackers are living there…
When I made the pictures I noticed that just one floor down right from my elite window another obviously rich students are watching tv on some kind of big ass tv – probably a projector…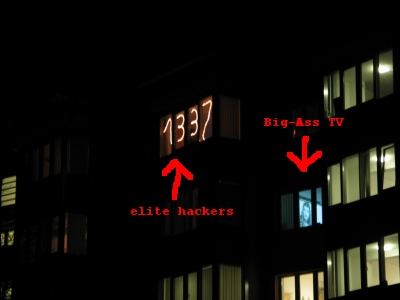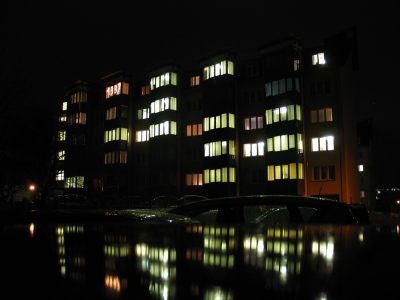 Since I don't have the space (and money) for such artefacts as a big ass tv – I am just jealous with the guys…I want one for my 360… okay let's start small: I want a 360!
I read and heard this many times:
"Before the opening of the Tokyo Game Show in Japan, Microsoft will say that it plans to launch the Xbox 360 on Nov. 22 in North America, on Dec. 2 in Europe, and Dec. 10 in Japan. Mitch Koch, corporate vice president of global retail sales for the Xbox division, said in an interview that the company's contract manufacturers are on schedule to simultaneously launch in all markets worldwide, something that has never been done before in the video game industry."
So WHAT exactly is simultaneous about November 22th, December 2nd and December 10th?!
Wikipedia says:
"Simultaneity is the property of two events happening at the same time in at least ONE Reference frame"
It wouldn't be that big problem for my understanding when they just won't even pinpoint on the fact that "this has never been done before"… They are probably right: Never before a company managed to make us believe that November the 22th, Devenmber 2nd and December 10th are the exact same day.
nuff said.