Hurray! Now the certificate import utility is available for Windows Mobile 5. Since we're playing a lot with 802.1x we are desperately in need of such a certificate import utility.
I did not test the utility – more on that later.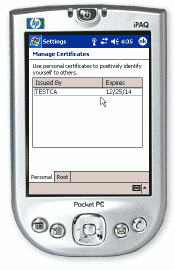 "I have made Crtimprt, a program for Pocket PC 2003 and Windows Mobile 5.0. Crtimprt allows you to import:





A "Personal Certificate" issued by any Certificate Authority (CA).






A private key which corresponds to this certificate.






One or more "Root Certificates" (or none at all).

Once an X.509 certificate is installed, you can use it to for user authentication on the Pocket PC. The imported certificate can be used in the following scenarios:






User authentication in L2TP/IPsec VPNs.






Web client authentication in Pocket Internet Explorer.






User authentication in 802.1x wireless networks (EAP-TLS only).






Other third-party applications that happen to support Personal certificates (I am not aware of any, though)."