I spent the whole day in Dresden – introducing Lars Iwer into his new job at Microsoft. But because that did not take the whole day I had some time to walk along Dresden. Actually I underestimated the fact that it's getting dark quite early at wintertimes. That and because my digital camera isn't as good as it should be is the cause that there are just some panoramic views from Dresden – not showing any of the usual sights ;-). Oh. I should mention the heroic presentation the Ford Galaxy gave us – yes, Sixt decided to give me another one after the death of the first one.

who designed that?!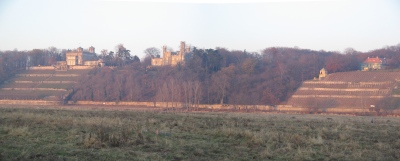 since the big picture is >19000 pixels width you can
get a medium size version here.