I did not write for over a week now – I simply had no time to write – but now I want to give you a short update on what happened the last days:
2. December: the 360 arrives. I had only some time to unpack and testdrive PGR3 – in fact it's what was promised – the next generation gaming console. (please make a firmware update so that the DVD drive is more quiet).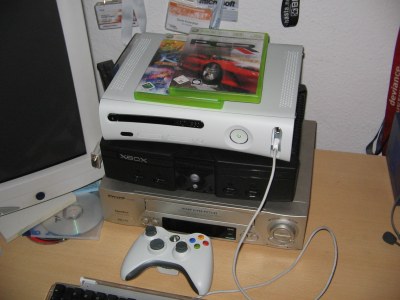 yes, there's an apple keyboard attached to the 360.
To raise the pain-bar the desperatly needed XBOX VGA cable is not available anywhere around. I actually have to wait till it's available again. Until then I am using the 360 via PAL-60 – which is – oh well …
There are some nice and some bad things to say about the 360 – one thing I just found out and impressed me: when you want to type – let's say in XBOX live – you might want to use the on-screen keyboard. But when you attach a commonly used USB keyboard to the 360 – you can use it for the typing job … I wasn't expecting that.
late last week I attended the 3rd "Speakers Acting" Training held by Vision Voices Executives Alexandra Schwarze and Martin Marx. As you can imagine it was a fantastic and enriching experience.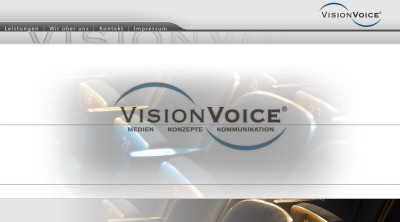 And the this weekend it finally happened: SIXT gave me my the first V6 – a Mercedes Benz ML320 – what a … hell of a car.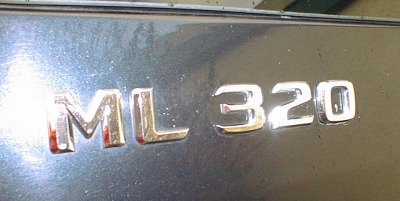 hmm… a SUV at >220 km/h… hrhr eat this mother nature!
Oh, I almost forgot to tell you what I did with the addictive ML – We took a trip to Berlin to meet with the guys of the Chaos Computer Club Berlin who are organising the 22th Chaos Communication Congress. As things work out we will be in Berlin at 25th of december with 10 people – recording and streaming the whole congress for you. Working closely together with the guys from congress-tv, congress-streaming… I can only cross fingers and hope that everything is going to happen as planned and discussed.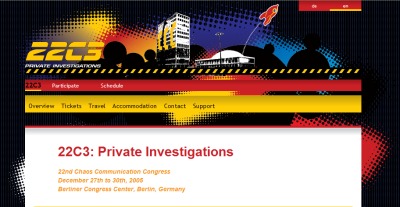 Source 1: http://www.visionvoice.de
Source 2: http://www.ccc.de
Source 3: http://www.ccc.de/congress/2005