Chaosradio is the monthly radio show produced by the Chaos Computer Club Berlin and Radio Fritz!. Each last wednesday of the month chaosradio is part of the Radio Fritz! Bluemoon program. As I am listening since years now the only thing I can do for you is to point you to the podcast URL/FTP where you can download what you maybe have missed to date: ftp://ftp.ccc.de or ftp://ftp2.ccc.de or Podcast/Homepage.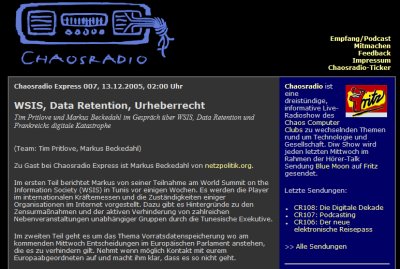 But the old-fashioned radio show "Chaosradio" is not the cause of this article. Yesterday we had a meeting in the FeM Office to discuss the upcoming general meeting when Skype showed up with a conference call of Tim and typo23 (sorry dude, what's your name actually?). As far as I can say Tim is really passionate about the new "Chaosradio Express" concept: a Chaosradio podcast without the need to ask somebody – just produce and "broadcast". Freedom of speech!
So I do not only recommend the old-fashioned Chaosradio episodes – I strongly recommend you to subscribe and listen to Chaosradio Express through this link: Chaosradio Express Podcast.
Source 1: http://www.chaosradio.de
Source 2: Chaosradio Express Podcast
Source 3: schrankmonster articles regarding Chaosradio