More than a year ago Matthias Eller and Karsten Donat created a distributed video encoding solution that actually works.
As far as I know they were in desperate need for computing power to encode all the documentaries that Karsten recorded every day (he recorded almost everything that was broadcasted on german free-tv).
So the idea came up to split a single raw-video into a number of parts and let many machines encode these parts automatically. Then these encoded parts are copied back to the server and put together to the now finally complete encoded video.
We're not using this at the moment for any encoding – but I thought it might be a great idea to write about it ;)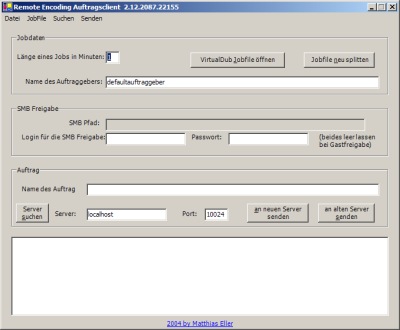 this is the tool to setup a new encoding task that is
submitted to the distributed encoding server
You can get this great tool-set at Matthias' Website: http://www.static-void-main.de
Source: Matthias Website