So nearly a year ago I wrote about my multi-monitor ideas. And after that article a reader commented that there is a software called "Synergy" – which is just perfect solving at least three of my demands on a perfect multi-monitor working environment:
use ONE keyboard+mouse – regardless how many machines I want to control
I want to copy-paste across the machines – clipboard sharing!
platform independent – I've got at least one Mac, one Windows and one Linux I want to control

So here it is. And it's working like a champ. To make it more clear what I am talking about I made a short movie for you: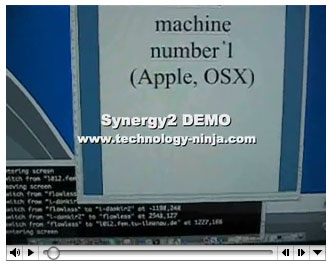 click to watch

And all this with just a small text config file that tells synergy2 which machine is next to which one…
You can get this video also via our podcast rss feed.
Source: http://synergy2.sourceforge.net/