So here we are. The January passed by and still no recordings. What happened?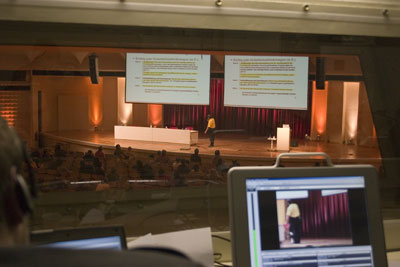 picture by namenlos
Straight after the congress we started working on the recordings – but soon we realised that almost all of the recordings we made live with ffmpeg and his friends were corrupted: The audio and video is just not in sync.
Well it would be easy if it was just shifted for a given amount of time – but the amount of shifting time is changing all through the recordings.
So we engaged DEFCON 4 and got back on our backup solution that is there, just in case something would go wrong. (who would have thought that?!).
So what's DEFCON 4? We came to the congress with 400 brand new DV tapes. And that's simply what our backup solution is: everything that was recorded during the 22c3 is on DV tape. And it's in sync there.
So we are extracting nearly all of the recordings from those DV tapes…
And as you can imagine: this takes some time. It takes less time than we'd expected – we are making serious progress. Together with the CCC it was decided that an intro and outro should be added to each recording – that also takes some time. If you are experienced in creating scripted/batched DV material with definable text… we obviously need your help :-)
So when will the recordings be available? We hope very very soon. Like I said we are making good progress in getting the stuff off the tapes, but it's very difficult to give a time frame. Check back here or on the official 22c3 FeM Homepage for updates – … well if we can get the intro/outro issue working fast it'll probably be only days away.
If you have any comment, feel free to comment here.