What would you do to demonstrate a new technology? Yes! You're right! Create a comprehensive example. And that's exactly what 9 studentpartners did. They created "Adventureworks.Cinema" – a sample with 5 client applications and one server application, demonstrating almost all facets of the .NET Framework 2.0.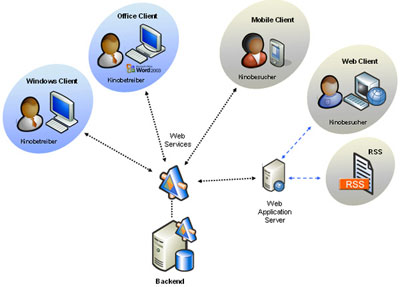 As you can see we have:

a Windows Client Application for the cinema operator (Windows Forms)
an Office Client to assist the operator by creating flyers (VSTO),…
a Mobile Client for the customer (Compact Framework 2.0)
a Web Client for the customer (ASP.NET 2.0)
and a RSS feed
and all this communicates with the backend server.
And to give you an idea how all this is designed inside – the layered architecture of all components: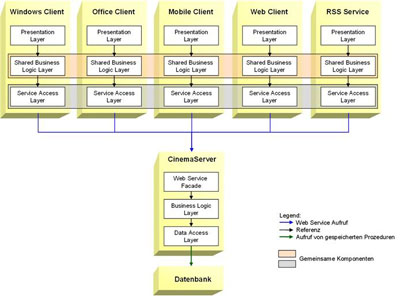 For further information and the complete sourcecode of Adventureworks.Cinema please take a look at the links below.
Source 1: http://www.microsoft.com/germany/msdn/library/vs2005/samples/default.mspx
Source 2: http://www.microsoft.com/germany/presseservice/detail.mspx?id=531559
Source 3: http://www.dotnet-magazin.de/itr/online_artikel/psecom,id,791,nodeid,31.html