Everybody knows me as the gadget-loving guy who cannot resist any chance to play with technology. And this night was once again time to play.
I was in bed complaining about the fact that I have to get up to change the track iTunes is playing at the moment. I thought: It should be possible to remote control iTunes and everything else on any machine in the room.
I instantly got up and looked for something that might do what I wanted… And what I found outdid my expectations by far: Salling Clicker is the name of the tool.
What's the point of the tool? It's simply a server and a client. The server runs on any Windows or Macintosh machine and accepts connections via TCP/IP or bluetooth. I am using bluetooth at the moment… The client runs on almost any phone, in my case a Windows Mobile 5 phone.
The installation is painless – on the Mac it comes as a Preference Pane: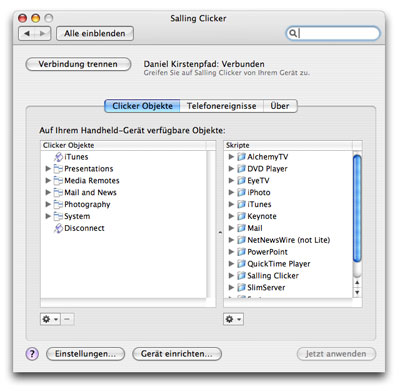 This represents the menu you have on your client…on my phone in this case…
You even can configure phone events…for example: What happens when the phone rings?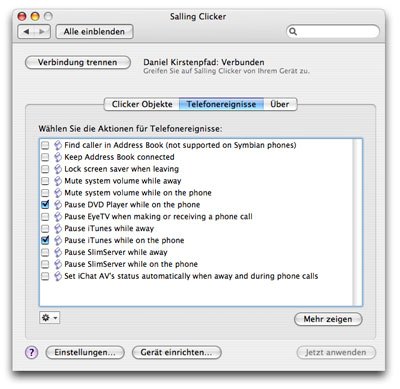 The user interface is very similar to an iPod. You simply control it with the D-Pad of the phone. Clicking the D-Pad is selecting…
To give you an idea what it looks like to play a song…look: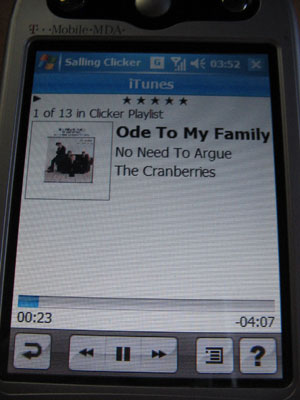 Yes there is cover art…and track rating…
And … you can search… and find…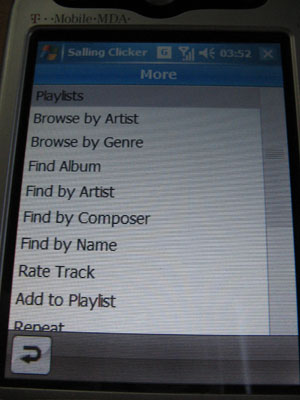 This is the first tool for about two years that flashed big way. I instantly registered my copy (the 30 click-limitation is quite annoying) and got a serial number within minutes. As I am exploring the tool I even found extensions for the remote control to acces my eMail…my ICQ…oh well and remote controlling Powerpoint presentations is one base feature…
The tool is, like I said, available for Windows and Macintosh – so take a look it's really worth the try.