When it comes to washed-out colors…or green/red/blue tinted displays… try to calibrate them with the help of this great site. Thanks to Kiesow.
"Accurate Image Manipulation for Desktop Publishing (AIM) is devoted for the best possible quality in the desktop publishing workflow. This calls for accurate calibration and correct choice for the working space.
Very accurate monitor gamma calibration charts, CGI simulations for Kodak Q-60 and Agfa IT8 calibration targets, Photoshop plug-ins and much more are available for download. Many evaluations are provided.
The calibration setup that is in use in high-end professional digital imaging, the linear workflow, is explained here in detail as well as the issues of CRT gamma."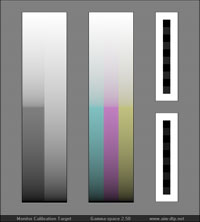 this is NOT usable for calibration…go to the site…

Source 1: http://www.kiesows.de/blog/2006/03/11/kalibrieren

Source 2: http://www.aim-dtp.net/aim/evaluation/cdg/cdg.htm