You cannot believe how pissed I am because of this annoying bug. I first encountered it when I wanted to play the "The Outfit" demo. When I started the demo I got this: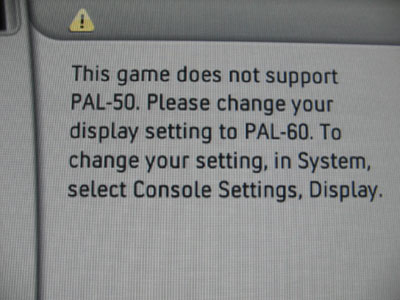 Well – easy, eh? No. Because my box was never used with a standard TV set the standard setting of PAL-50 for a german XBOX 360 is untouched ever since. I am only using the HDTV output of the box since I don't have a standard TV set handy at the moment.
The tricky part is that the demo just checks if the option is set to PAL-60 or PAL-50 and return with an error in case of PAL-50. It does not check if I actually use standard definition or high definition output… So just changing the PAL-50 option to PAL-60 would work around this check – BUT – the configuration dialog checks if I am using standard or high definition – which means it does not display the PAL-50/60 option – which means that I have to attach my 360 to a TV set and set the option… which is not possible because there is no TV set …
To make a long story short: I am not able to work around a bug that keeps me from playing now two games… the "The Outfit" demo and "Feeding frenzy" which showed up yesterday on Xbox LIVE Arcade.
Please fix this bug!!!!!!!!!!!!!