Everyone knows about those solid-state disks. And everyone knows that there are not-so-solid disks that utilise normal RAM for data storage.
"The i-RAM's greatest asset is easily its simplicity. Just populate the card with memory, plug it into an available PCI slot, attach a Serial ATA cable to your motherboard, and you've got yourself a solid-state hard drive. There's no need for drivers, extra software, or even Windows—the i-RAM is detected by a motherboard BIOS as a standard hard drive, so it should work with any operating system. In fact, because the i-RAM behaves like a standard hard drive, you can even combine multiple i-RAMs together in RAID arrays."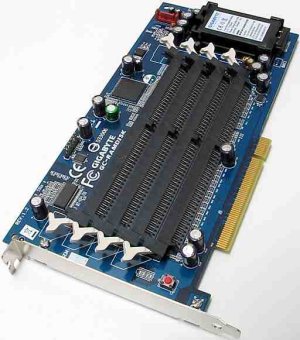 So here's a Windows XP running and even more impressive booting on one of that gadgets… Oh man I want one of those!
Source 1: http://techreport.com/reviews/2006q1/gigabyte-iram/index.x?pg=1
Source 2: http://video.google.com/videoplay?docid=-51784544344753709&q=%22i-ram%22