A widely known electronic store (in germany) did an advertisement for the fun and information of everyone: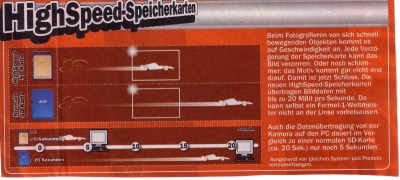 The text:
"If you want to take a picture of fast moving objects: Speed counts! Every delay of the memory card can distort the picture, or even worse: the motive is not visible. There's an end of it! The new HighSpeed-Memory cards transfer the picture data at up to 20 MBit per second. Even a formula 1 world champion could not escape.
The data transfer to your PC only takes 5 seconds, instead of the 20 seconds with a normal memory card."
Hmkay… understood?
Source: DSLR-Forum