"Silver Bells and Golden Spurs is an exploration of the movie making capabilities of Second Life. It serves as a proof of concept for doing such, as well as the need for certain technical improvements.
With all the available Second Life tools, customized avatars and animations, and with the help of Bedazzle Studios, I knew we could create a high quality, compelling movie.
I first read the anonymous poem in a collection of cowboy poems I picked up several years ago, and immediately knew I had to make this story into a movie. I made notes in the margins of the book describing camera angles, dolly moves and crane shots. When I ran out of room, I decided to adapt the poem for the screen. In the screen play I could accurately describe the action in each scene, and use it as my guide through the production process (just like a real movie is made).
Pulling information from the script, I created lists for props and set pieces, avatar animations, audio, and costumes. These helped streamline the production and assured that no details were overlooked.
The set and all of the props were created on a single simulator, maximizing visual quality while minimizing overhead. I met regularly with the set modeler, character animator and costume designer to review and discuss the progress of their work. Although I had a very specific mental picture of what everything should look like, I needed to allow each of these artists the latitude to explore and use their creativity."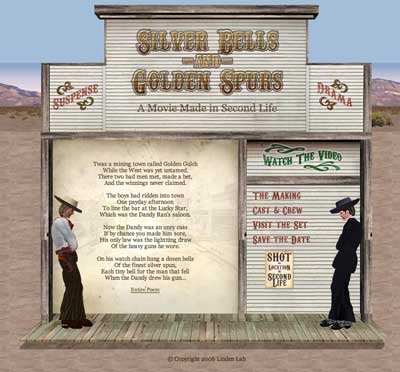 Source: http://bellsandspurs.com