99 grams is enough. They certainly are right on that point and on many others. 8 GB, 320×240 display (2″), sleek black look, MP3, WM*, FM-Radio, RSS Feeds, audio and video podcasts (though: no video in germany (why?!))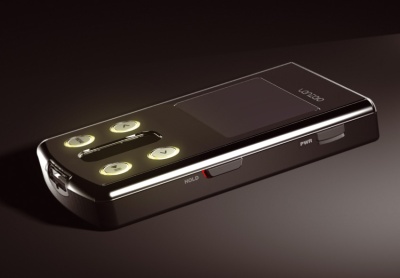 And there is more.. You get this port on one side of the gadget:

Venzero calls it "SharePort" and extends the USB-on-the-Go! considerably says Venzero… One feature only the Venzero ONE comes with is the so calles "MusicMarker". You can record short audio clips while you're on the road/in the bus/train whatever. Back at home you can sync it with your PC and with venzeros' servers et voilá: you get the artist and title of the song which was playing in your short audio recording. A great feature and I cannot wait to test it.
Venzero says it'll be available in mid-June 2006 for about 289,90 Euro. (remember: an iPod comes with 4 GB at 249 Euro…)
Source: http://www.venzero.com