German CISCO Expo 2006 is finally over and from our point of view it was truly a great success.
There were very interessting sometimes cool presentations and demos, a lot of food & snacks and
very colorful light at the party. Over all it was a much better event than all those cisco
CeBit exhibitions I've been to before… the new (cisco) economy seem to be back on stage ;)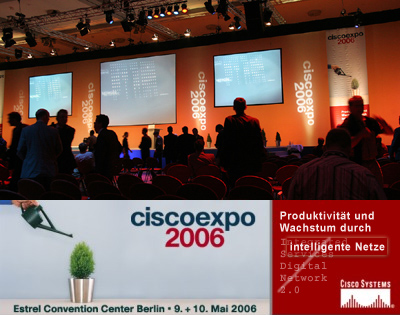 Keynotes
CISCO's new vision for next generation networking got a new name: "Intelligent Information Network"!
Now all the routers and switches should become more intelligent, be aware of the users actual location
and connection type (ethernet, wlan, UMTS, …) and voice, data, video are integrated services of
IIN. Doesn't sound this familiar? Yes! In the days of web 2.0 I think German Telekom would call
this reinvention of the wheel just ISDN 2.0… let's hope that it will work better this time ;)
BTW: During the T-Systems keynote they showed us a _real hacker_ *huu-hoo* and demonstrated
the unbelievable security risks of unencrypted VoIP by using ARP Spoofing *hu-hoho*. So don't
ask T-Systems if you have a _real_ security problem.
eLearning
There were several talks about eLearning, eEducation, about the CISCO networking academy, and
the Scottish Schools Digital Network. If we belive in the given facts and figures people with
deep knowledge in networking will have a great time to earn a lot of money during the next years.
But from our point of view there is still no real funding of university research (URP is not that
great). The NetAcad program might be good for people willing to learn how to configure cisco
switches, but not when you are more interessted in building next generation routers, switches, and
networking concepts. So for us this program is more or less just marketing…
Technology power sessions
WLAN is still a lot of fun… Much more interessing was the talk about the modular IOS, EEM, and
Gold. CISCO is rewritting their os from ground and the new one will have some really nice features…
For example a real filesystem with virtual files like /sys (*hu-hoo* think about this twice ;),
embedded event management, processes for more or less every protocol in use and best: an TCL
scripting environment! If you send enough emails to the dev team embedded perl could also
become available. You can win a box of sparkling wine when you implement tetris within TCL *g*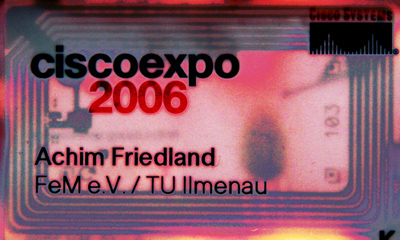 RFID sponsored by German Telekom… great… :/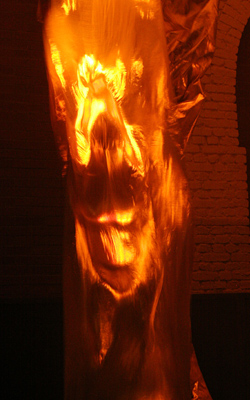 Burn venture capital, burn!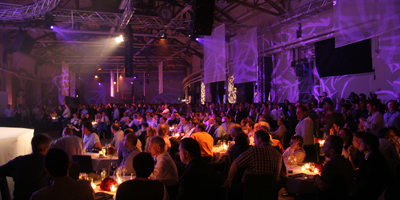 The party was really a great! Thanks to the orga team… but I still don't like this "booooming"…
review and pictures by Ahzf
Source: http://www.ahzf.de