Sorry for the caps…:
"ON A TRIP TO THE HAMPTONS THIS WEEKEND I STOPPED AT A GARAGE SALE. AS I WALKED UP TO THE HOUSE I NOTICED A BIG PILE OF SUPER NINTENDO/NINTENDO GAMES. AFTER SELLING ME AROUND 100 GAMES FOR $40."

"THE SELLER TOLD ME HE WORKED AT NINTENDO FOR 10 YEARS AND PART OF HIS JOB WAS TO GO AROUND TO THESE NINTENDO COMPETITIONS. HE SOLD ME ALL TYPES OF GAMES THAT HE SAID WERE PROTOTYPES(INCLUDING 5 COPIES OF THE STARFOX COMPETITION GAME.""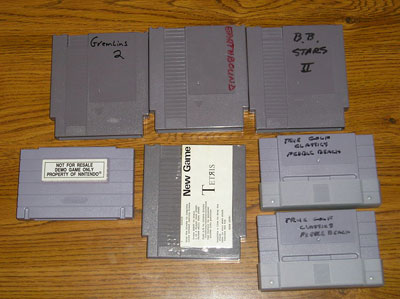 What a serious find!