It's a real classic. It's a great game and I am waiting for it's newest incarnation: The New Super Mario Bros. for my also awaited Nintendo DS lite. Besides that: my apologies that the animated gif is 10 pixels wider than usually.
"Walljump is when you jump towards a wall and somehow Mario's foot catches the wall
and allows to jump again, boosting from the wall. In the example image on the right, three walljumps are performed.
Theory: Walljump happens because the game does a floor check (a simple "is position divided by 16 even? Is there a solid block below him?" test) even during a wall-ejection. Wall-ejection is SMB's mechanism to adjust Mario's horizontal position properly when his left side and right side have a different inside-wall status. The game ejects Mario towards the opposite of his steering."

To perform a walljump, you need two things:

Some horizontal speed (towards the wall)
Mario's feet must hit the wall exactly at a block boundary (every 16 pixels)
It's possible to perform walljump from any non-lethal solid material (bricks, pipes, etc)."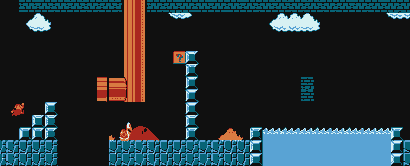 Source: Super Mario Bros. Tricks