"The .NET framework provides a powerful class Regex for
creating and using Regular Expressions. While regular expressions are a
powerful way to parse, edit, and replace text, the complex syntax makes
them hard to understand and prone to errors, even for the experienced
user. When developing code that uses regular expressions, I have found
it very helpful to create and debug my expressions in a separate tool
to avoid time consuming compile/debug cycles. Expresso enables me to do
the following:
Build complex regular expressions by selecting components from a palette

Test expressions against real or sample input data

Display all matches in a tree structure showing captured groups, and all captures within a group

Build replacement strings and test the match and replace functionality

Highlight matched text in the input data

Automatically test for syntax errors

Generate Visual Basic or C# code that can be incorporated directly into programs

Read or save regular expressions and input data"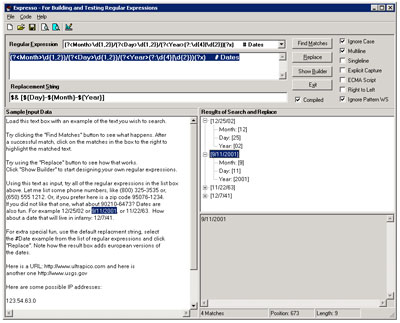 It's available as binary and source download.