Peter Haas and Silvia Holzinger did a film called "Weizenbaum. Rebel at Work." and I think you should hear about it:
"The film spans 8 decades of Joseph Weizenbaum's life. It provides a stage for his humorous narrative depicting a World of Yesterday while reflecting on the dawn of the computer age. It follows 83-year-old Weizenbaum on some of his numerous public lessons, effortlessly entertaining overcrowded lecture halls.
The old man is an up-to-date chronicler, a chief witness against militarism and the myths of technological progress, but he remains a modest, funny and most reflective story teller."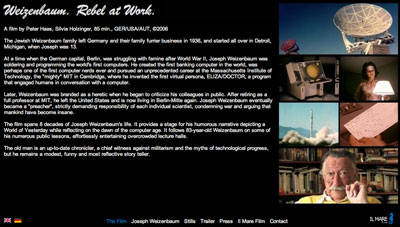 It'll be available in german language in august and later this year in english.
Source 1: http://www.ilmarefilm.org/W_E_1.htm (english)
Source 2: http://www.ilmarefilm.org/W_D_1.htm (german)