I do like two car manufacturers (well, their cars to be precise) more than all the others. One of them is Mercedes-Benz and the other is…TVR. Yes, the brits.
They make great looking powerful sports cars and I hope one day one will be mine ;) They are quite affordable compared to other supercars – for example you can get a brand new TVR Sagaris (4l V6) for 80k EURO…a pre owned 2004 Cerbera (4.5l V8) comes for about 48k EURO…did I mention they do not come below 380 bhp and weigh as much as two packs of chewing gum? (I'll have to pay royalties to Jeremy Clarkson for that…damn!).
The fact is that the Cerbera has gone out of official production in 2004. But now TVR is auctioning the last made Cerbera on the Internet:

Yes, you can get that brand new, pepper white, 420 bhp supercar…just sign up and bid…well if you have the money (which I don't)…
Beside the Cerbera I fell in love with the Sagaris…look how gorgeous it is: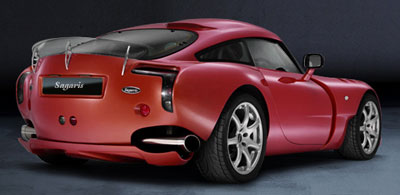 raaawwrrr!!
I just found the sagaris video:
If you want to buy me one…contact me :-)
Source 1: http://www.thelastcerbera.com/
Source 2: http://www.tvr.co.uk/overview_sagaris.php