I recently wrote about the progress I made with YAPS – the multicast to unicast proxy that suddenly became even a vcr. And today I found "TVBrowser":
"TV-Browser is a free electronic program guide. It offers more than 140 mainly german stations."
You get everything you might expect from an electronic program guide with TV-Browser and even more. It's extensible and fast. The extensibility is exactly the reason why I am using it as the EPG frontend for YAPS/VCR.
I used the WebSearch Plugin of TV Browser to actually do a http-request on the YAPS/VCR webserver. This request adds the recording to the schedule list…easy as it could be…
It looks like this: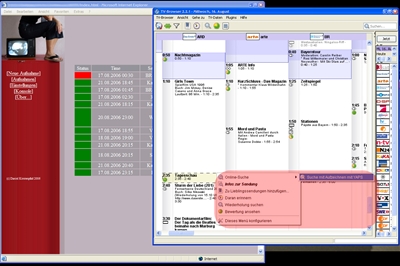 right click on the programme and you're about to
program the recording…
Infact the only thing I had to do is to add one line to the WebSearch Plugin config, which looks like this: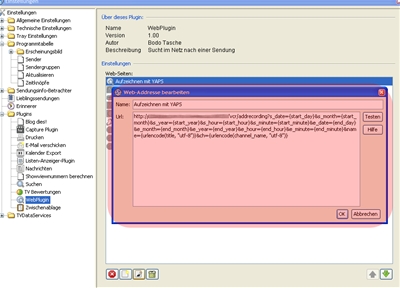 Simple, isn't it… one webrequest and the recording is added.
Finally I've got a great EPG to program my recordings…yeeehaaa!
Source 1: udp multicast to tcp unicast proxy extended to be a vcr
Source 2: http://www.tvbrowser.org