Today I am releasing a current build of YAPS to give you the chance to take a look at it during the development process. There are a number of new features and bug fixes in this version, the most noticable enhancement is the brand new user interface: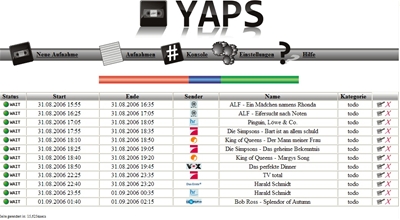 One of the new features is the Space-Usage-Bar:

For a complete overview of all fixed and added things, take a look at the changelog below. Everyone who is waiting for some particular feature to be implemented: it's on the list and soon in YAPS. Everyone who wants to see a feature in YAPS which isn't there or planned, please comment this article and tell me what you would like to see.
changelog:
31.08.2006
fixed a bug in the HTTP Processor where only lower case AddRecording calls were accepted
added ManageRecording function call to the HTTP Processor to allow better TVBrowser Integration (remove should work now) (added type=add or type=del)
30.08.2006
fixed a bug that caused the HTTP server to malfunction
29.08.2006
added Recording PlayCounter which shows how many times each recording was downloaded or streamed directly from the YAPS server
fixed a bug that caused a crash when a wrong formated URL was requested…
changed the default port to 80
fixed a bug in the RecordedList TemplateProcessor which produced not working Streaming URLs
fixed some of the html templates
added some more data fields to the recording data structure (activated)
added a simple sorting algorithm (Sorter.cs) used for RecordingTable and DoneRecordingTable HTML Template Processor Rendering
added a resume-streaming feature: Once you started streaming and stopped, YAPS resumes at the last position you stopped it; the next time it starts at the beginning of the recording
25.08.2006
changed file information of the YAPS assemblies…
added addrecording.html (new design)
added default page when / is requested
added some commented-out extensions to the Recording Data structure; to be activated when a Recording File Converter is available
23.08.2006
added addrecording.html to the Design Project (to be updated soon)
added TVBrowser (tvbrowser.org) Capture Plugin Definition File (YAPS.tcf)
mono compatibility in TemplateProcessor.cs via Mono.Unix.UnixDriveInfo
better recognition of the mountpoint for the videodirectory
fixed some bugs in HTML Templates where Firefox had some issues with the top toolbar of all pages (ello)
added live-streaming support for recordings, should be possible now to read recordings while recording…
added blue bar to space usage bar – blue bar shows how much space would be used when all recordings are done successfully
added blue bar and exclamation mark graphics
minor todo addition to TemplateProcessor.cs
22.08.2006
first checkin
import in MonoDevelop
fixed path-bug in http.cs
added MonoSocket.cs for better compatibility betwenn mono and microsoft
modified multicast_vdr.cs to use the MonoSocket class in case of mono (define preprocessorvariable "MONO" in case of compiling for mono)
fixed the /vcr/AddRecording Encoding bug which created some weird recording names
fixed the warning in MonoSocket
added console page
added help page
added percentage bar template keyword and html generator
finally fixed the UTF8 URL Handling
Download the current build: YAPS310806.zip (577,92 KB)
Read on: udp multicast to tcp unicast proxy extended to be a vcr