After using the "Web-Search"-Plugin of TV-Browser to program new recordings into YAPS, ello came across with the idea to use the "Capture"-Plugin instead.
And after doing so: It's incredible what that Capture Plugin can do!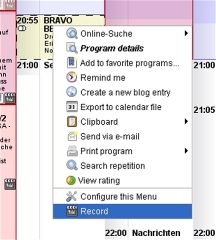 in the context menu: the "Record"-Button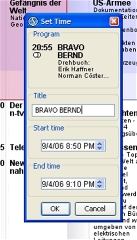 specify the title..and you're done…
The Capture Plugin does several things:
making the programming of new recordings as easy as possible
showing visually that this particular episode will be recorded
allowing you to remove the recording from the schedule
And all you have to do to add this functionality to your TV-Browser is:
download: YAPS TV-Browser Plugin
import the YAPS.tcf file into the Capture-Plugins Device Listing (Import Button)
configure the server name and the channel-name mappings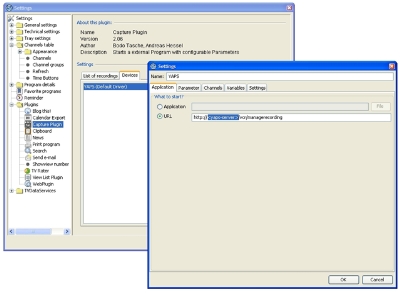 When you're done with that everything should work. Oh… I have to admit: The record delete functionality is not quite working as it should…but it will in some of the next builds…
Thanks to the TV-Browser team for creating such a great application!!! Keep on the good work!
Source: http://www.tvbrowser.org