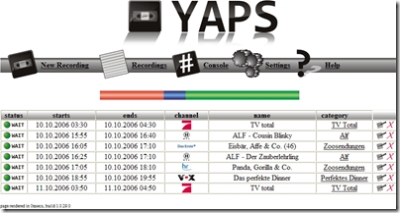 For me YAPS becomes more and more the vcr application I was always searching for. I've fixed a lot of bugs since the last article about YAPS and added a lot of features. It did not crash for about a month on my production system and the daily build access seems to work better than I thought it would (since it's only a quick .cmd script).
Since the settings page is quite hard to implement I started with some other things that lead their way to get the settings page done – one of which is the dynamic template keyword feature where you can add options to .html pages which can be used in the page itself. (documentation to be written).

The settings page should be ready within this week hopefully as all the needed parts are coming together right now (like those options and stuff).
What I want from you:
Feedback! – Keep the feedback coming. It's good to hear from people using this software. It's even better to hear feature wishes.
HELP! – If you are a HTML guru, graphic artist, .net coder or TVR car dealer, then write a comment, leave your contact data and you're in the team. I need help in every mentioned way and in some not mentioned…hrm…
Here's the changelog since the last version I wrote about…oh..we do have a build version now…it's 1.0.30 for the Processor and 1.0.2474.1263 for the application as I am writing this.
10.10.2006
added the %settings_*% keywords to the TemplateProcessor
changed the MapNames Class to ChannelMapper
added ChannelAddress Settings, Settingsfile
added %buildversion% template keyword
added Misc Settings and Channel Adress Mapping Settings Icon
added Misc and Channel Settings to the Settings HTML Page
some cosmetic changes to index.html and the LoadSettings console output
added automatic categories to the To-Be-Recorded Listing
09.10.2006
changed the HTTP Servers file buffer size to 20480 bytes; increased the HTTP performance by factor 4
changed the Multicast Cached Reader/Writer buffer size to 150 RTP packets per client-loop-run
07.10.2006
implemented AddSearchTerm and DelSearchTerm functionality
added editcategory_step4.html for Searchterm deletion (changing that in future versions!!!)
added AutomaticCategoriesForRecording functionality to the CategoryProcessor
added Category Listing to the RecordedListing Template Processor
added RenderOneLine Method to the RecordedListing Template Processor
added CategoryFilter functionality, just click on the category in the Recorded Listing to filter
added SortAscending/SortDescending Keywords to recordings.html handling – you can now switch between those sorting schemes; default is Descending
added Querystring.cs
known bug -> when CategoryFilter is active SortAscending/SortDescending wouldn't work; currently fixing
03.10.2006
fixed a bug in the http method calling tree
29.09.2006
fixed a bug in the Managerecording-Deleterecording methods
changed the RemoveRecordingFile Forwarder to the /recordings.html instead of the last page in browser history
fixed a bug in the ForwardToPage method
updated the TV Browser Capture Plugin Configuration (/Documentation and Misc/TV Browser Capture Plugin)
added settings page
added settings_categories page
added settings category and addcategory icons
changed Design Vector file format to CorelDraw! X3
added Category Adding functionality
added Category deleting functionality
added Searchterm adding functionality (partly)
28.09.2006
added the deleterecording functionality for managerecordings (delete recording without knowing the ID)
changes to the Category data structure
added category.cs to the repository
added CategoryProcessor
added AddCategory HTML Page
added EditCategory HTML Pages
added Category listing Template Processor
added ForwardToLastPage HTTP Response
added ForwardToPage HTTP Response
21.09.2006
changed the Settings data structures
fixed a spelling error in the DoneRecordings table
added category listing to the RecordedListing table
added channel image for german br
added several category management specific changes
Dailybuild (Microsoft.NET): http://www.slow-backward.de/yaps_daily_build.zip
Dailysource: http://www.slow-backward.de/yaps_daily_source.zip