ATTENTION: The information in this article are not final and are subject to be changed during the plannings.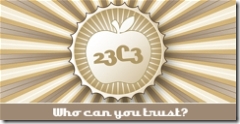 In less than 2 months the 23c3 takes place in Berlin/Germany (December 27.-30th 2006). And the plannings are in full progress. We had several brainstorm sessions and I think that we finally do have a plan. First of all: We learned a lot from the 22c3 live streaming and recording work. And to give you an overview of the things we want to achieve this time:
permanent working live streams of all 4 lecture halls
high quality recordings without using our DV-Tape fallback
making low/mid/high quality recordings in different codecs available for download within 24 hours
To achieve these goals we're going to need considerably more hardware than last year, which means:
4 WMV Live Encoding machines
1 MPEG-2 encoding machine with 4 MPEG-2 encoder cards
4 video editing machines
6 19″ TFTs + 1 4
at least 1 monitoring machine
more than 1 Tbyte of storage space
5 cameras + 1 video mixer
a lot of helping hands (yes, we need help chaos angels!!)
So. The camera setup is almost identical to the last one. But this time we want to use a better FBAS signal instead of the in-house HF-cable-TV. The WMV encoding stays as it was last year. We plan to install an additional MPEG-2 hardware encoding machine which produces high-quality MPEG-2 data (which gets edited and compressed for download distribution as fast as possible).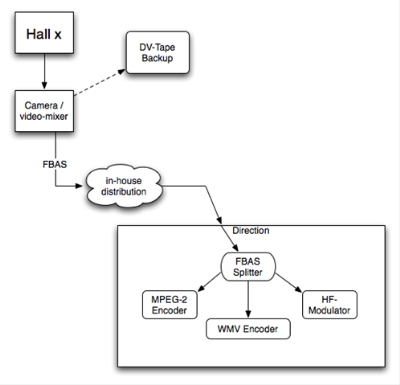 Since we're sill in planning stage we cannot speak about bitrates, live streams and such. Everything is subject to change, it's just a draft. But stay tuned and read frequently. Oh… and comments are welcome.
Source 1: https://events.ccc.de/congress/2006/Home
Source 2: https://events.ccc.de/congress/2006/Angel_FAQ