Once again it's update time – this time the Sharepoint Portal Server 2003, installed in April 2006, needs to be upgraded to the brand new "Office Sharepoint Server 2007".
I think the best way to get a clean installment is to start from the beginning. So I've created a new virtual machine and installed the OS, using the newly available R2 release of Windows Server 2003. Since the whole authentication stuff is Activedirectory based I did not need to bother with local users and groups. I've installed the .NET Framework 3.0 right away and so everything starts after the OS installation and the mandatory windowsupdate.com visit.

First, ensure that you're currently logged in with Administrator privileges. Then check if IIS 6 is actually configured to use ASP.NET 2.0.50727:
Enable ASP.NET 2.0
Click Start, point to All Programs, point to Administrative Tools, and then click Internet Information Services (IIS) Manager.
In the Internet Information Services tree, click the plus sign (+) next to the server name, and then click the Web Service Extensions folder.
In the details pane, right-click ASP.NET v2.0.50727, and then click Allow.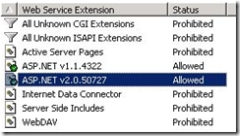 Install SQL Server 2005
When you're planning to use the SQL Server Express Edition you can just ignore this step since Office Sharepoint Server 2007 comes with it. If you're, like me, want to use SQL Server Standard Edition you just install it as you normally would.

The default configuration of SQL Server 2005 is that the local BUILTIN\Administrators usergroup also got the sysadmin role assigned. This is important for the next steps.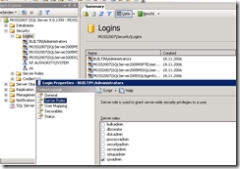 Install Office Sharepoint Server 2007
The first thing you have to enter is the product key. Just enter it and Continue…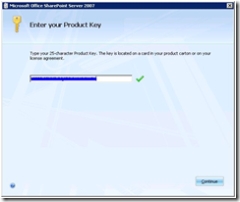 Actually read and accept the license terms for Office Sharepoint Server 2007 and continue…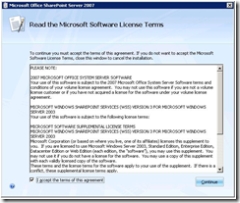 Choose "Advanced" installation type: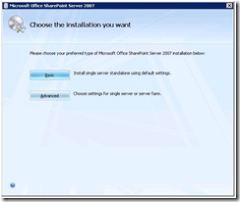 On the next screen you should choose "complete" which installes all components of the product.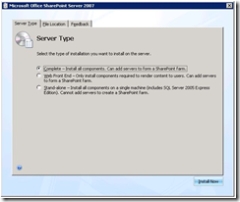 You can now safely click the "Install Now" button which will start the automatic installation process.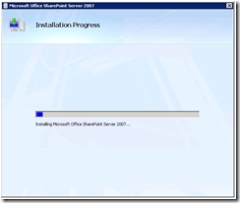 After some seconds you should be seeing this: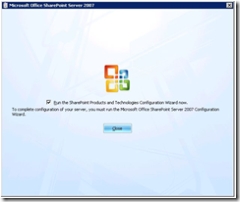 And yes, of course we want to run the "Sharepoint Products and Technologies Configuration Wizard". So click "Close" and the wizard opens (of course…)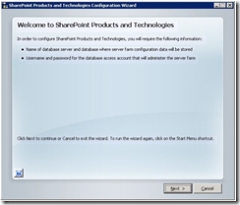 Click "Next" to get rid of the welcome message and click "Yes" when you're asked if it's okay that things that need to be done are done (restart of services)…(why are they asking anyway?)

You are then asked if you want to connect to a currently existing server farm or if you would like to create a new one. Of course in my case I need to create a new one.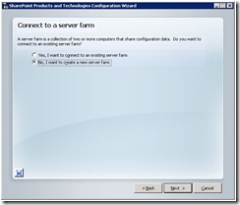 I've already created an user account in the AD domain called fem\sharepoint_admin2007 which I am going to use as the main administrator account for the sharepoint server. On the next page you're asked for the configuration database settings.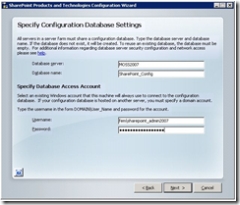 Enter the database server, the desired database name and enter the user account name+passwort. You don't actually need to add the fem\sharepoint_admin2007 account to the SQL Server 2005 logins since you're currently logged in with a user with sysadmin role on the SQL Server 2005. That means: the new databases are created with the user account you are currently using and the username you entered is assigned administrator role for these databases.
After clicking on "Next" you're asked which port you want the Central Administration Website to use. If you don't choose something a random port number is chosen. We choose port 34474. You can also configure which authentication provider will be used for the Central Administration Website.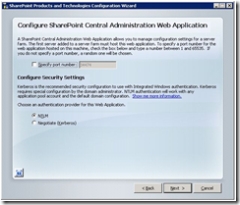 After clicking on "Next" you're presented the whole settings you made. You just go on with "Next".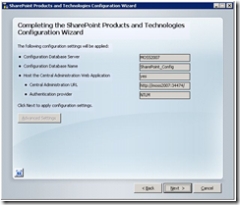 And now the magic starts. Office Sharepoint 2007 Setup installs the server, configures the databases and web applications and starts/restarts the services that need a start/restart.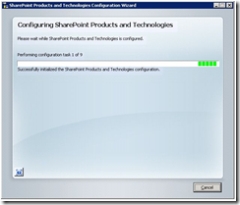 If everything worked (and it should) you're once again shown the settings you've just made. Click "Finish" and your default browser should open http://moss2007:34474/. You should now see the "Office Sharepoint 2007 Central Administration":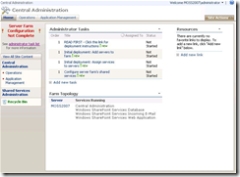 Now you should configure/check you're browsers security settings to ensure everything will work in the next steps.
Add the SharePoint site to the list of trusted sites(Internet Explorer 7)
In Internet Explorer, on the Tools menu, click Internet Options.
On the Security tab, in the Select a Web content zone to specify its security settings box, click Trusted Sites, and then click Sites.
Clear the Require server verification (https:) for all sites in this zone check box.
In the Add this Web site to the zone box, type the URL to your site, and then click Add.
Click Close to close the Trusted Sites dialog box.
Click OK to close the Internet Options dialog box.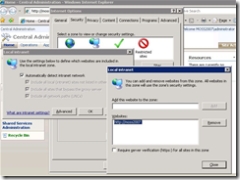 Since there is a copious amount of "Administrator tasks" which is Sharepoint speak for "you really really should work through that list". Just click on "Administrator Tasks" headline on the homepage of the Central Administration website and you should get the complete list. Work through it, you'll need everything to be properly set up to continue through this howto.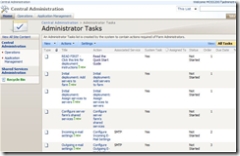 Since we're working with just one single machine and not a complete server farm we read fast through the quickstart guide and ignore the server farm related stuff. We go directly to the "Services on Server" configuration screen which looks much like this: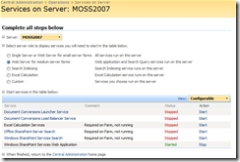 So we select "Single Server or Web Server for small server farms" and take a closer look at the services listing on the bottom of that screen. You can start the services in the following order:
Document Conversions Load Balancer Service

Document Conversion Launcher Service

Excel Calculation Services

Office SharePoint Server Search

Windows Sharepoint Services Help Search

Windows Sharepoint Services Web Application

As a next step we need to configure the shared services of the new Office Sharepoint Server 2007. You can find the page here: "Central Administration > Application Management > Manage this Farm's Shared Services > New Shared Services Provider"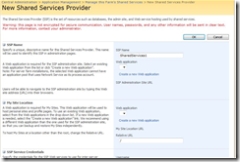 Since we did not create a Webapplication yet we can do it now: just click on the "Create New Web Application" link and fill out the fields accordingly. You can choose the database name here. Just use the names you'll remember.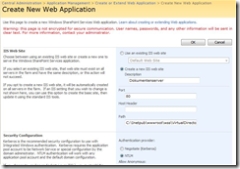 For security reasons please create a new account which will be used for the IIS 6 application pool and the SQL Server 2005. This user must only have the permissions he needs for the job. (see Office Sharepoint Server 2007 security articles on MSDN) When you now click on the "Create" button your web application, database and application pool will be created.
After the successful creation you'll be forwarded back to the "New Shared Services Provider" page. This time the web application fields are filled in with the web application data you just entered.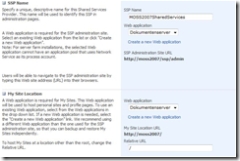 You now need to specify the credentials for the SSP Web services to use for inter-server communication and for running SSP-scoped timer jobs. Don't use a local administrator or domain administrator account. This user must only have the permissions he needs for the job. (see Office Sharepoint Server 2007 security articles on MSDN). You could now click the "OK" button but you'll end up with a warning telling you that it's not recommended to host the MySite on the same web application as the Sharepoint Services Provider administration site. So I recommend creating another web application for the MySites.
I did this in my case using a new hostheader "http://mysites.moss2007".

By clicking on the "OK" button you should get the already familiar "Operation in Progress" animation showing you that the magic happens now. After a short while you should see this: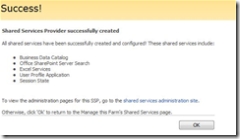 Hurray! It seems that everything worked out. Now the only thing we should do is to restart the IIS 6 server to ensure every configuration change is actually propagated.
To do this right-click your IIS 6 server in the Internet Information Services (IIS) Manager select "All Tasks" and click on "Restart IIS…". Click on "OK" and IIS 6 should restart.
When you now access "http://mysites.moss2007" you'll asked for user credentials and since the only user for this moment that has access is the one you entered during the creation process, use this user. And you'll end up with this:

And after a short waiting period you can browse through your brand new MySite. Last we need to create a new Site Collection. You can achieve this through the following path: "Central Administration > Application Management > Create Site Collection".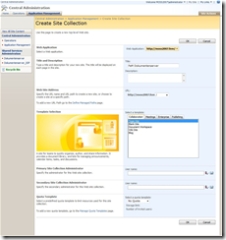 Fill in the fields and select from the "Template Selection": Enterprise -> Site Directory. After your click on "OK" once again you'll see the "Operation in Progress" animation and after this you're Site Directory is set up. Now you can access the your Top-Level Site in this case "http://moss2007".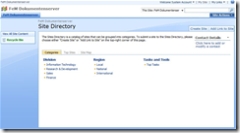 At this point we successfully installed and configured a Office Sharepoint Server 2007 on a brand new machine. And since we're essentially done with the base Office Sharepoint Server 2007 installation process we're now going to migrate the databases of the Sharepoint Portal Server 2003 version to our new installment. So stay tuned for Part 2 of this HowTo.
Source 1: Install Office Sharepoint Server 2007 on a stand-alone machine