Several months after I was told about last.fm I finally ended up using it. I installed it yesterday on my main-music-playing-machine and so far the experience is great.
"Last.fm is a service that records what you listen to, and then presents you with an array of interesting things based upon your tastes — artists you might like, users with similar taste, personalised radio streams, charts, and much more."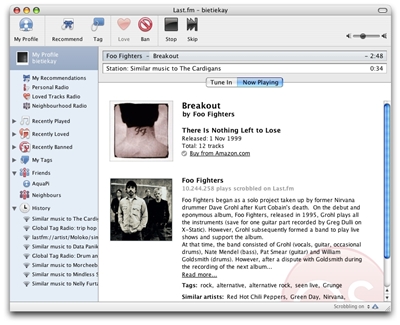 Since last.fm is monitoring what music I am listening to it can also be used to create some kind of "personal chart list" which you can put on your website… it may look like this:

(this actually is a realtime chart of my account)
In the meantime I was redirected to another quite similar service called "Pandora". You also get a free high-quality radio from them. But Pandora is working very differently in the inside. Instead of taking the social approach like last.fm, Pandora wants to investigate the "genome of music":
"Together we set out to capture the essence of music at the most fundamental level. We ended up assembling literally hundreds of musical attributes or "genes" into a very large Music Genome. Taken together these genes capture the unique and magical musical identity of a song – everything from melody, harmony and rhythm, to instrumentation, orchestration, arrangement, lyrics, and of course the rich world of singing and vocal harmony. It's not about what a band looks like, or what genre they supposedly belong to, or about who buys their records – it's about what each individual song sounds like."
Since last.fm has a really nice tool for my mac and is working really well for my music taste I am going to stick with it… for everyone else: go and try both.
Source 1: http://www.last.fm/
Source 2: http://www.pandora.com/