We're making quite some progress on YAPS these days. And since the recording and live-streaming part is doing great so far we decided to go for some new features. We were not that creative in the last months when it comes to the settings implementation – and the fact that it's not that useful in the moment for myself (and the people that are using it) we did not develop in that direction since the last update on YAPS. I will offer support for everyone who would like to try out YAPS. But back to business: What new features are there?
we added Authentification to the HTTP server. It's some simple stuff just based on the accessing IP adress, but you can specify certain capabilities for each accessing IP like "CanCreateRecording" or "CanAccessLiveStream". The data is stored in a data structure and can be saved to disk in the future but at the moment it's all source-hard-coded.

XBOX Media Center (XBMC)

support was added in the last builds. And that means: support for Live-TV streaming and support for watching the recordings. Yes, correct: Live-TV and recordings on your TV via an XBOX.

To stop teasing and start showing it:
As you can see… you got some kind of OSD (which you also can turn-off) and a neat GUI. I can use the XBOX remote to change channel.
It's looking great, isn't it? And of course there are the recordings: All lined up and ready to be viewed.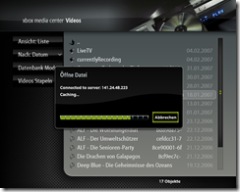 caching…
So that are some nice little features. Since I am currently using one 500 Mhz P3 machine to serve 4 TVs it shows that it also scales quite well. (One recording + one live-tv takes about 2% CPU time). I can't wait to here your feedback!!1!
Oh yeah, statistics are great. And YAPS now is a bit over 8000 lines of code and still growing. Of course developers are needed – if you want to take part in the YAPS development contact us…)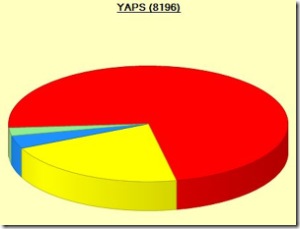 here is the changelog:
04.02.2007
fixed a bug in the http servers file accessing module – a CurrentlyRecording could only be watched to the point it reached while the watching started
01.02.2007
added CurrentlyRecording Playlists to the XBMCSyncProcessor (added XBMCPlaylistFilesHelper class for that matter)
changed http server so that it now displays the accessing IP
added disk based logging (ConsoleOutputLogger.WriteLogfile)
added checking for .log file extension in http server to prohibit access
changed started to optimize settings pages
fixed a bug in the logfile writer that was triggered when multithreaded logging was done
31.01.2007
added TimeShiftProcessor which implements a circular buffer in memory (working on a buffer which is stored on disk)
fixed a bug where you could not watch a recording while it has been recorded; you can now watch it even if it was not recorded completely…when you fastforward through the movie, be careful: it'll say EOF if you reach the end
of what has been written (thanks to Matthias Raacke)
30.01.2007
fixed XBMCSyncProcessor bug that caused constant checks on currently running recordings
added AuthentificationEntry – capability based permission settings
added capability based persmission settings – canAccessLiveStream, canAccessRecordings, canAccessThisServer, canCreateRecordings, canDeleteRecordings, isAdministrator
fixed minor bug in LiveStream permission testing
29.01.2007
added XBMCSyncProcessor to sync the playlist files on the harddrive to the YAPS recordings – means: delete the playlist file and the recording is deleted as well
added RecordingsManager for playlist filename creation and correct recordings deletes
changed filename – added some more whitespaces
23.01.2007
fixed a bug in the XBMC Playlist creation process (if a recording name was used more than once only the last one got a playlist file)
corrected some minor bugs in the REMOVERECORDINGFILE http server command
some cosmetic changes to the playlist filenames
22.01.2007
added XBMC compatible .strm playlist file creation and removal (in ./Playlists directory)
16.12.2006
increased the ThreadedCacheWriter cache size by the factor 5 – in the past on very fragmented harddisks
the recordings were corrupted by lost packets
fixed the %played_percentage% bug, the value is now displayed correctly and in all cases
10.12.2006
corrected a spelling error in the "Reset PlayCount" section of the HTTP server
08.12.2006
added line template for recorded listing
07.12.2006
fixed some minor design issues
converted recordings.html to new template
fixed spelling in help.html
12.11.2006
added FileSize to the recording info
added played_percentage placeholder to the "One-Line-Rendering"-Engine
08.11.2006
added "ResetRecording" functionality to the /vcr/ path: resets the current play position "rewinds the tape"
07.11.2006
added the long awaited Recording/Recorded Listing Placeholders
%render_recorded_table(templatefilename)% and %render_recording_table(templatefilename)%
added according placeholders for the Listing Templates: %playcount%, %starts_at%, %ends_at%, %runtime%, %channel%, %recording_name%, %categories%, %recording_id%, %recording_status%
some minor changes to the index.html and recordings.html
added recording_line.template and recorded_line.template files
02.11.2006
added recorded at column to the PlayList Manager
01.11.2006
added sorting to the XML feed (newest recording is first entry in XML feed)
26.10.2006
fixed some loop bugs in PlayListManager
added click-and-start-playing functionality to PlayListManager
25.10.2006
added %render_recorded_table()%; not yet functional
added application "PlaylistManager", based upon the Recordings RSS Feed a MPlayer playlist can be generated…
fixed a resizing bug in PlayListManager
18.10.2006
added demo-settings containing donerecordings, categories and recordings…
15.10.2006
changed the settings pages to use the footer and header templates, prepared for XHTML1.1
12.10.2006
added skins-subfolder, containing default-subfolder with images and stylesheet for the default-design
changed index.html-template to use skins-folder and moved all design-related stuff into stylesheet
changed rewrite of index.html in XHTML 1.1 with div-based layout
updated the YAPS toolbar graphics in the CorelDraw! file
added YAPS_logo_complete.png
added correct mime-type handling to the HTTP Server (text/css, text/html, text/jpeg….)
changed the

 tag in TemplateProcessor ConsoleOutput placeholder  


changed console, help and addrecording templates to validate as XHTML 1.1
fixed some design issues with new css-styles
fixed a encoding bug in the http html handler which now outputs UTF8 which was UTF-16LE
added HTTPAuthProcessor and IPAuth frame
added validIPAdresses and AccessFromThisIPAllowed to the HTTP server; ATTENTION: only localhost and some of my private IPs are allowed, you can change that in the YAPS.CS (see inline comments)
11.10.2006
added %include(filename)% keyword to the template parser
added Loop-Detection for %include(filename)% keyword
As usual you can grab the daily build here: http://www.slow-backward.de/YAPS_daily_build.zip or just build one yourself using the great MSBuild tools. I wrote about that here and you can get the subversion access here.
We appreciate every single user feedback we get. If you got an idea, if you want to have a feature in YAPS or anything else. Don't hesitate and contact us.