It's almost a year now since I bought a tool named Salling Clicker. Since Salling Clicker is available for OS X and Windows and the fact that I am maintaining my Music Library on my Mac I went with the OS X version of the tool. Sad but true: You have to pay twice if you want it for Windows and OS X.
I now stumbled across a tool for Windows called "Bluetooth Remote Control for Windows Mobile" which seem to does the trick – not as cute and extensible as Salling Clicker but useable.
"With this software, you will be able to control remotely applications like Winamp, the Windows Mixer, the Windows Media Player, PowerPoint, Media Player Classic, PowerDVD, with more coming… such as the Vista's Media Center."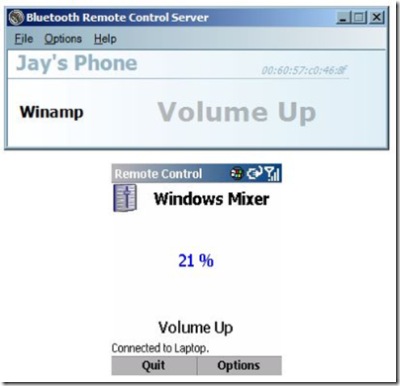 The downside is that the author says it's not working with the WIDCOMM Bluetooth stack at the moment – but maybe in the future he'll/they'll update the support.
Source: http://jaylee.org/RemoteControl/