Yeah you probably know that: You got the idea, you start the coding and you stop at that same point you stopped last time because you run out of talent. It's that art thing you're not into. I for myself have to admit that I cannot draw. Well to be precise I can draw technically but nobody every recognized what I was drawing so I suppose …
Well to make a point: Someone who can actually draw took a heart and created what a person like me wanted for years: A proper tile set for prototyping.
The author wants to tell us this:
"The PlanetCute set attempts to wiggle past many of those problems.
Building blocks, not tilesets: Instead of having complex tilesets, each block stacks nicely with pretty much any other block. If you can understand Legos, you can understand how to put together these graphics. These tiles should be useful to children, not just uber-elite game gods.
Standardized format: All the graphics are uniform sized PNGs. The graphics will also work in almost any graphics engine out there that can do 2D sprites. Once you get your offsets right once, you never have to change them again.
Source files included: If you do need to make changes, I've included the source files. If you really need to change a color, go for it. If you need a big gem, just scale up the original. Everything is a vector so you'll alway end up with clean results."
And yet it does look very very good: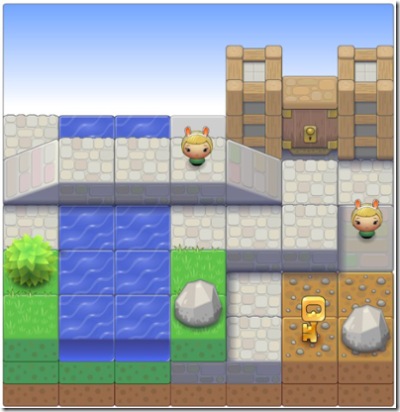 You can grab them and:
"The next time you make a prototype, use these graphics. If you can reduce the time you spend on futzing with graphics from 40% to 5%, you can put more time into those fun game mechanics you've been dreaming about. The magic is that your graphics will now look good enough to get you through the first 15 seconds of your demo. Your friend will perk up and stay engaged long enough to give you feedback all the wonderful work that you've put into your prototype."
To complete this article: They are available as pixel graphics and Silverlight/Expression compatible .design files…hurray!
Source: http://lostgarden.com/2007/05/dancs-miraculously-flexible-game.html