We spent the last two days in Duisburg attending the Student Technology Conference 2007.
"From Software Architecture, User Interface and Robotics to Games Development with the XNA framework: in use and brand new technologies of the IT – industry will be presented and demonstrated at technologically advanced level. Microsofts Student Technology Conference is the perfect opportunity to engage with potential employers and to get in touch with Microsofts .NET technology. Additionally the German Finals in Microsofts premiere technology competition, the Imagine Cup 2007, will have its final in the Software Design invitational right here!"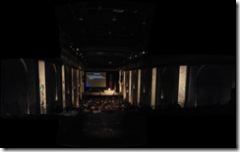 the keynote


view from our hotel room…nice, eh?
Source: http://www.studentconference.de