There's something great going to happen this summer. After the great experience we had with the DVB-T TV Station of the Maintech guys at the 23c3 Achim decided that it would be great to have such a DVB-T TV Station for FeM e.V.. He went through the hassle of getting a license and organized the needed hardware. Today one of the important parts arrived… but first a teaser: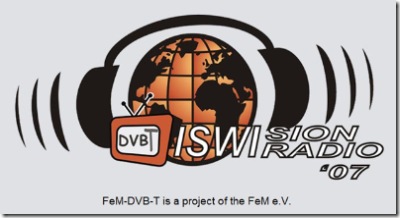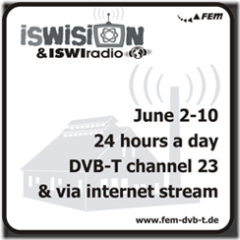 Yes! FeM is going to broadcast 24 hours a day from June 2nd to 10th the ISWISION and ISWIradio via DVB-T on channel 23 (490 Mhz). Today the antenna arrived… this thing is humongeous: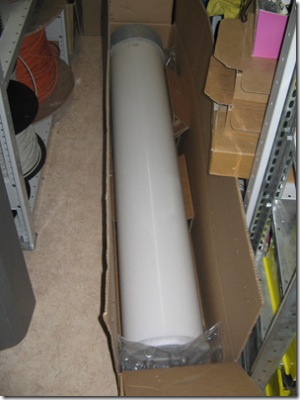 Achim wants me to shout out to the partners of this DVB-T FeM e.V. project: Maintech GmbH and SR-Systems. Consider that done.
If you want more information stay tuned on technology-ninja. In the meantime you can read the press feedback:
"Forschungsgemeinschaft elektronischer Medien e. V. veranstaltet erstmals Ereignisfernsehen
Anlässlich der traditionellen Internationalen Studentenwoche Ilmenau 2007 (ISWI 2007) wird die Forschungsgemeinschaft elektronische Medien e. V. vom 1. bis 10. Juni erstmals Ereignisfernsehen veranstalten. Im Stadtgebiet von Ilmenau wird das Programm als DVB-T-Signal (Terrestrial Digital Video Broadcasting – digitaler Fernsehempfang über Antenne) ausgestrahlt. Zu sehen sein werden Live-Sendungen aus der Fischerhütte in Ilmenau, Übertragungen von Veranstaltungen sowie eine Sendeschleife mit Veranstaltungshinweisen und Wiederholungen. Zusätzlich wird die DVB-T-Frequenz genutzt, um das Programm vom Ilmenauer Studentenfernsehfunk und von Radio hsf zu verbreiten." (Press release, Thüringer Landesmedienanstalt)
Source 1: http://www.fem-dvb-t.de/index.html
Source 2: http://www.fem.tu-ilmenau.de/index.php?id=69
Source 3: http://www.maintech.de/
Source 4: http://www.sr-systems.de/
Source 5: http://www.tlm.de/tlm/aktuelles_service/presse/index.php?pm_id=272