Today ISWI starts for the ISWIsion and ISWIradio team!!
"From June 1st to 10th, a group of approximately 50 students of the university daily presents a TV show about this get-together with all its events and participants. Most of them are members of the student broadcast station called iSTUFF, a department of the Forschungsgemeinschaft elektronische Medien e.V. (FeM e.V.).
The ISWIsion studio is located in the Fischerhütte at Langewiesener Straße 22. The former glass manufactory is being remodeled into our media centre for the traditional ISWI. All shows will be broadcast live and in English via internet stream, campuscable on channel 3 and – for the first time – via DVB-T on channel 23 in the whole city zone of Ilmenau."
You can get the always up-to-date schedule here.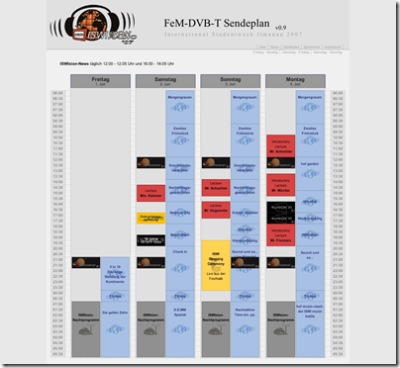 ISWIsion starts in a few minutes…check it out via live stream!!!
Source 1: http://www.iswiradio.de/
Source 2: http://www.iswision.de/