When I first saw a review of "Microsoft Windows Home Server" I was impressed by several features. One that I never thought about is that little icon on each Home Server client that shows you the overall status of your home network:

This little icon can look like this, depending on the status: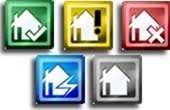 As you can see – it'll give you a clean and fast status by telling you that everything is okay on your network or that anything needs your, maybe immediate, attention.
I am administrating round about 12 Windows servers and I always looked for a clean and easy to use tool to monitor them. So I came up with a plan: Build my own tool.
Since I am extensivly using Windows Communication Foundation in the last weeks I was intrigued to try it on that matter. So I built a WCF selfhosting service that makes the eventlog of the machine it is running on available. Then I built a small client that fits nicely in your tray. I am not quite done yet but it's a good start.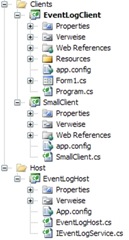 As you can see. There is the Host, running on the server and making all Eventlogs of this machine available. Then there is "SmallClient" – being exactly this: a small client for testing purposes only. And thirdly there's the EventLogClient – giving you the full blown user interface…
This is how it looks when you add a server to the client: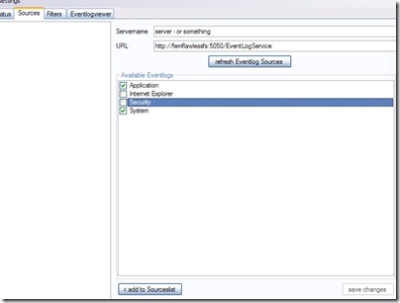 And this is how it looks when you configure a filter: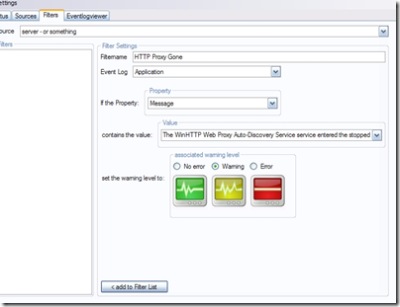 I thought it would be nice to have this workflow:
configure/add the server and select the eventlog that you want to monitor

create and configure a filter that is matched upon the particular eventlog source
For the icons (see above) I used one of the icons from the Tango Icon Gallery as a starting point and added some color and stuff.
So why do I even talk about all this? I want YOU to take the code and use it…add more functionality…I am releasing the code(except the icons) under the BSD license. So you can do almost whatever you want with it – but I would love to hear about the things you're doing with my code and idea.
You can download the sourcecode of my little project here. (200 Kbytes)
Source 1: Home Server Homepage
Source 2: http://tango.freedesktop.org/Tango_Icon_Gallery
Source 3: Sourcecode.