With every UMTS/3G card comes a tool that tracks your connection information, your traffic and everything… and it looks like this for a Vodafone UMTS card: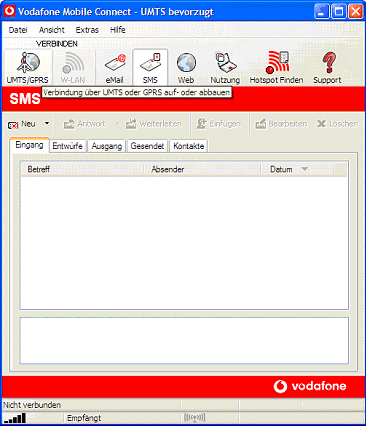 That's not even close to cute and well useable. So someone took the task and created this: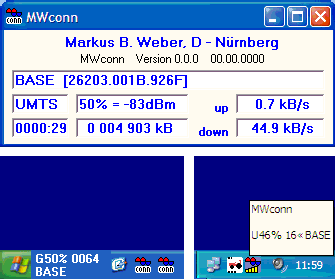 A small tool that is compatible with almost any available UMTS/3G hardware on earth and has these features:
tiny executable: 0.3 MB, very little CPU load
permanently displaying:

up- and download speed in kBytes/s, used data volume in kByte (with round option), used online time (with round option), mode of operation UMTS(3G)/GPRS, signal strength in percent and dBm, network name and cell id (if provided by pc card), homezone status

movable mini window with information display:

sitting on the task bar, at upper screen border, in front of the start button, as dynamic tray icon with gauges

warning when exceeding data volume or online time
optional beep output for signal strength,network change and cell change
manual or automatic selection of network and mode
optional warning when using not listet networks
determination of receivable networks
retrieve and charge prepaid credit
automatics:

start/terminate connections,start extern programs such as Browser or Ping, reconnect after errors/freezes, generate network entry, dynamic com port determination

adjustable connection error tolerance
connection test by "smart Ping"
SMS reception can be activated
PC remote-control by SMS
SMS transmission by batch job
logging of data volume and connection information
connection statistics as semigraphics
timer for program end or shutdown
deactivate graphics compression (some networks)
scriptable
service terminal for data card commands
shows data card netlocks
service log for data card control communication
for Windows 2000/XP/Vista/embedded
And the best of all is that this is a freeware tool. Unfortunately it's not available for OSX.
Source: http://www.mwconn.com