So maybe you are on the ever cruel pre-Christmas present hunt. And maybe you have to satisfy some wishes for DVDs. Usually you have a great choice because there are often many new items available for the Christmas sale. But the case gets serious if you are looking for the special one – the brand new 5-disc Blade Runner Ultimate Collector's Edition.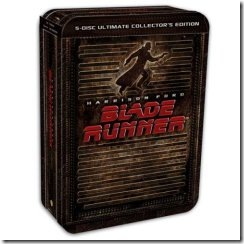 Fans have been waiting for years for this to come. Consequently the huge response and the fast sell-out. In recent days I have been witnessing the price-development, a fine example of how the mechanisms of supply and demand work:
Amazon.de offered the set for 43,95€ on its web site. Many bought. Some marketplace and ebay-activities for about the same price or slightly below.
Then the sell-out. What happened?
1. No more primary supply, but plenty of demand left.

2. Amazon-marketplace increases the prices to an average of 90€.

3. Hefty ebay-auctions for about 70-100€.
Suddenly, Amazon is back in the game – again for 43,95€
4. The marketplace prices collapsed to 42€.

5. Analogously the offers at ebay.
It's sell-out again, because the sudden availability was due to cancellations.
6. Quickly every item below 60€ is gone from the marketplace – the rest now in the 90€-range.

7. Adjustments also at ebay – biddings exploded.
The end of the line? Well, we learned that DVDs can be traded like shares at the stock-exchange. All you need are enough panic people who want the same thing under their Christmas tree. And we didn't even take a look at the LIMITED Blade Runner set.
Some information by the way if you are considering a buy:
– It's a patience game. Wait until after Christmas (OK, this would be too late for Christmas itself.).

– Look at the UK: Half the price and with German audio track (except the workprint).

– Look at the US: Even cheaper and every edition available (English only).

– The 5-DVD set is NOT limited. There will be a new release soon next year.

– Watch your other DVDs first.
Jens Heymann