It has been the most awaited game of the year – Ubisoft's "Assassin's Creed". The official plot deals about a member of the legendary assassins, an organization of … eh, yeah… assassins. Your mission as player is to kill nine different persons because they destabilize the peace of the hole Middle East with their actions. So far, so political correct.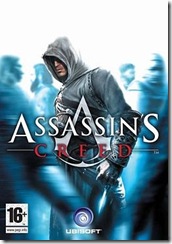 I say this is bullshit.
The historical assassins had been a bunch of fanatical and ideological blinded killers who dreamt of establishing a strict theocracy (think of Iran). This sounds very familiar with what islamic terrorists are doing these days, doesn't it?
Just imagine a few changes:
– change of time: not the Middle Ages, but the present
– change of scenery: not Akkon or Jerusalem, but Bagdad or New York
– change of armament: not the dagger and poison, but AK-47 and explosive belts
– change of mission: not a hidden single killing, but casualties as many as possible
The rest remains the same.
What about escaping after the kill? Not historical. Assassins didn't run away – they accepted their death and now you know where the modern suicide assassin is descendent from.
This is of course only a game, but with an interesting setup.
Jens Heymann