When today the movie "Earth" aka "Unsere Erde" starts in cinemas around the country you may have the chance to experience something very special: a real cinematic déjà-vu.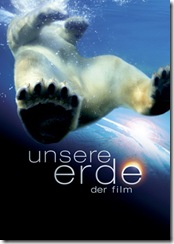 Let me explain how:
What many people don't know for sure: This movie is a best-of of the same-named TV-series previously aired on ARD some time ago and after that on other public stations. So if you are an avid documentation-watcher you are going to pay for something already seen (and maybe even stored at home, not to mention the monthly TV-fees…).
The original series contains eleven episodes of 45 mins (Uncut 48 mins, BBC-airing). It's not difficult to sum up and recognize what's missing (of course) in the movie-version.
You still may say: But I wanna enjoy it on a big screen with a crowd and once in my life it's ok paying for old stuff.
Then I better say nothing about "Deep Blue"…
Jens Heymann