If you are – just like me – still using the very good and always updated Xbox Media Center for your slightly hacked XBOX 1 console you should take a look at the new XBMC.org website: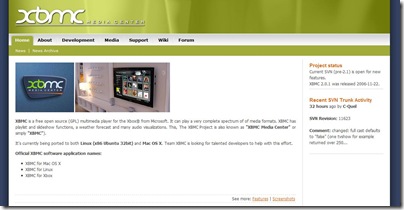 Not only that these guys a making a great job creating the best Media Center that I've ever was allowed to use, they are even porting it to different platforms:
"It's currently being ported to both Linux (x86 Ubuntu 32bit) and Mac OS X. Team XBMC is looking for talented developers to help with this effort.
Official XBMC software application names:
XBMC for Mac OS X
XBMC for Linux
XBMC for Xbox "
That means: If you have a OS X or Linux box, you should visit the site too and take a look at the (early) snapshots of XBMC for your platform.
Source: http://www.xbmc.org