Last month while attending the CeBIT I was looking around in exhibition hall 6 at United Internet and discovered some nice advertising products.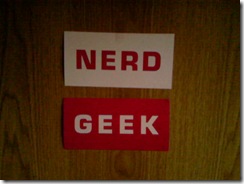 On my interest I got the reply: "Are you a nerd?"
My answer: "Truly, I hope not anymore. But I'll take one of each." Too bad they are no stickers.
Some things will haunt you forever, won't they?
Jens Heymann