When you're in need of a tool that shows you the differences between two binary (non-text) files you probably would like to take a look at AptDiff.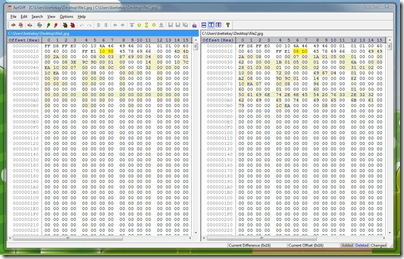 "AptDiff is a visual text / binary files comparison and merging utility for Windows 2000/XP/2003/Vista.  It is highly useful for software developers, web designers and other professionals.
AptDiff features a double-pane view that allows for side-by-side comparisons, with customizable color-coding indicating whether each line/byte is added, deleted, or changed.  AptDiff can also export the side-by-side comparison to a nicely formatted HTML page for publishing on the web.
AptDiff can be installed on FLASH or other portable drives.  All user configurations are saved in the movable drive.  You can carry AptDiff with you wherever your travels or business take you and run it on almost any computer."
Source: http://www.aptedit.com/aptdiff.htm