It's been some time since I wrote about my little digital video disk recorder project and I think it's time to wrap up some things. First of all I am using this software myself on a daily basis, having recorded about 1000 recordings in the last 4 months alone tells something. YAPS now is capable of handling multiple users – with each one having their own recordings and play-stop-positions.
Here are the new features in a short list:
Electronic Program Guide (EPG) Integration (multiple transponders/streams if you like)
Session Announcement Protocol / Session Description Protocol Integration
Multi-User support with capability checking
Cassini / ASP.NET Integration to allow ASP.NET web applications to run on YAPS
WCF Webservice interface to expose video disk recorder internal data (recordings list, event list,…)
Automatic and Reoccuring recordings
several new graphics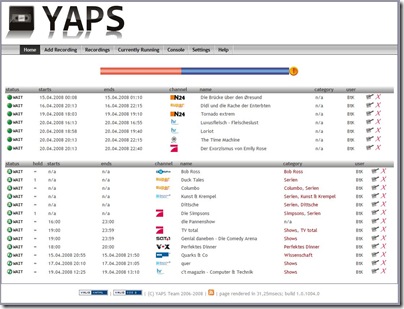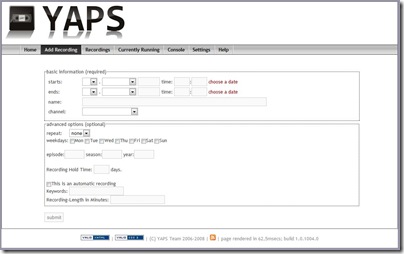 The daily-build system is broken as of now but you can always grab the latest sourcecode from here.
For a complete changelog hit the jump.
Here's the complete changelog since the last article about yaps:
13.04.2008
added %render_automatic_and_reoccuring_recording_table% keyword; the other recording table keywords don't display automatic/reoccuring events
added canAccessOthersRecordings capability and capability handling
added %holdingtime%, %comment% and %elapsed_holdingtime% to the Recording/Recorded/AutomaticReoccuringRecording table
added %render_currently_running_epg_events_table% keyword
06.04.2008
added Session Description Protocol parser
added Session Announcement Protocol setting data (SAP_IPAdress, SAP_Port)
added Session Announcement Protocol processor
bugfix attempt to fix a race condition that leads to no RecordingList rendering and no more recordings…
03.04.2008
added WCF Service Host to allow self hosting of data
switched to .NET Framework 3.5
23.03.2008
added feature that automatic EPG recordings end when they do end on the channel – Event EndTime is used now
rewrote Cassini Webserver integration
fixed a bug in the Template Processor that caused a display of the runtime as fraction of minutes…
15.03.2008
automatic epg recordings are now looking at the channel id and if it's set they only record events on that channel
automatig epg recordings are now looking for a timespan in which they are active
recorded listing template processor is now aware of automatic recordings (icon, time rendering)
added automatic epg wait icon on recordingslist html page
changed automatic epg recording to take the real name from the epg instead of the one that was entered
14.03.2008
Recording data structure changed to reflect new "automatic epg based recording" feature
added automatic EPG recording feature; based on "AutomaticEPGRecordingKeywords"
changed Tuxbox Implementation to show channel ID on Xbox Media Center
changed addrecording.html and http vcr command handling (addrecording) to reflect automatic epg recording feature
implemented automatic epg based recording; just enter keywords + recordingtime + name + isAutomatic=true –> Automatic recording
13.03.2008
changed EPG error handling to only stop listening to EPG events when 25 errors in a row occur
changed EPG handling to display new events on unknown service ids
14.01.2008
13.01.2008
updated neu.png
added Holding-Time Handling
12.01.2008
added reoccuring event handling in VCRScheduler
added reoccuring event handling in HTML page AddRecordings
updated years and version numbers
bugfixed RecordingsPlayed statistics
updated Recordings-Table to reflect status if recording is reoccuring or not
added SVG Files for all YAPS graphics
03.01.2008
updated solutions to Visual Studio 2008
17.11.2007
Added HoldingTime to make "forget to delete a recording" impossible; HoldingTime of 0 is indefinite, everything else means hold n+1 days
Changed behaviour of Recordings Streaming: The StopPosition Counter is updated in realtime which means: You don't have to close a recording to watch it from the current Position
added Cassini Wrapper
8.11.2007
integration of Cassini v2 into YAPS
added some statistics
22.10.2007
added a new management data structure to the data structures/Recording.cs that holds a list of UserStopPosition; Each User now has his own LastStoppedPosition for each recording.
08.05.2007
added RecordingsThumbnail class to generate a Thumbnail picture for a recording
added generateThumbnailFilename to XBMCPlaylistFilesHelper
added thumbnail creation and deletion routines to multicast_vcr and others
udpating thumbnail when playcounter/position is updated…
added "Updating recording…" console output
added isRTP property to channelist (default value is false); you can determine if RTP header should be stripped or not for a specific channel
07.05.2007
fixed a bug in the /xml/CurrentServiceData section that caused an exception when no EPG data was known
added error handling to the EPG Processor Thread; after 25 errors a thread will be shut down
06.05.2007
added /cgi-bin/zapto to http handling
added /xml/streaminfo to http handling
added Name2ServiceID to ChannelAndStationMapper
added TuxboxCurrentServiceData structure and handling
added /xml/currentservicedata method to http server
added /xml/boxinfo method to http server
added boxinfo data structure
05.05.2007
several changes for debugging purposes to the YAPS multicast processor to debug a specific problem
fixed a thread unsafe bug in multicast processor
fixed several more thread unsafe things in multicast processor and vcrscheduler
changed behaviour: If a streaming client now refuses to accept data packets he will be disconnected after 1 second (until timeshift is implemented)
01.05.2007
fixed a bug in VCRScheduler that could lead to a crash on startup (was not threadsafe)
24.04.2007
added %rendertransformation($input_url,$xslt_url)% keyword to the TemplateProcessor
21.04.2007
fixed a memory leak in the rss generator
added TuxBoxServices data structure
added tuxbox /xml/services call handler to http processor
changed the MulticastEPG source data handling so that the multicastEPG Sources are now stored in the settings.dat.xml (misc settings) file
fixed a bug in the EPGProcessor that caused an empty CurrentlyPlayingList
added small testing portion
fixed some bugs in http server
rewrote tuxbox services data structure and handling (helping hand: Andreas Heil)
18.04.2007
reimplemented the whole Channel-Name-Picture-ServiceID-MulticastIP-MulticastPort Mapping and created a new data structure and XML file that holds that data
added filtering functionality to the EPG Processor that filters only known channel EPG data and discards data for unkown channels
fixed the XBMCSyncProcessor bug; I had the file deletion functionality disabled….
17.04.2007
added the multicastedEPGProcessor Implementation, does maintain a CurrentlyRunning List but is not used yet (Implementation just for leak and stability testing)
added new Channel/StationID mapping data structure
13.04.2007
removed JMS/DVB subproject
several changes to the JMS/EPG subproject to make JMS/DVB obsolete
working EPG implementation (not yet activated) — need to get working
02.04.2007
now displaying associated username instead of IP address in the http logfile
added EPG Processor startup to YAPS.cs
01.04.2007
30.03.2007
fixed a bug in the XBMC Playlist File branch; XBMC Playlistfiles respect now a port number setting != default port 80
29.03.2007
changed multicast behaviour: we don't use RTP from now on; there's just plain UDP
added new EPG test data
fixed a bug in multicast_vcr
fixed DeleteRecordings; did not work for several versions – you can now delete scheduled recordings
fixed a bug in the ConsoleOutputLogger that leads to a "Collection was modified after the enumerator was instantiated." exception when the logoutput is accessed while it's written
Source 1: http://www.dotnetcommunity.de/yaps/yaps_daily_source.zip
Source 2: http://www.schrankmonster.de/PermaLink,guid,71a24ec5-8576-4fe6-b5f5-8607017e5f00.aspx