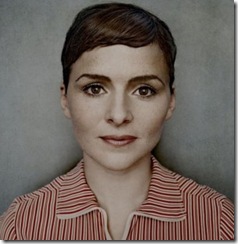 "Following on from her critically acclaimed sets 'Love In The Time Of Science' and her first for Rough Trade 'Fisherman's Woman', the forthcoming 'Me And Armini' (released 8th September) sees her working once again with her long time producer/collaborator Dan Carey resulting in what we feel is destined to be one of the albums of 2008.
'Me And Armini' is a hugely ambitious and aspirational pop record with Emiliana's soaring voice centre stage, bolstered by a rich gamut of musical styles. From the summery skank of the title track to the surging, breathless, first single 'Jungle Drum' (released 29th September) and yearning, spine-tingling 'Big Jumps' and much more in between 'Me And Armini' is a truly fantastic album.
'Me And Armini' will be released as a digital single in the US exclusively via iTunes on 19th August, with the album of the same name to follow on 9th September. "
Download the song "Me and Armini" here.
Source 1: http://www.arjanwrites.com/arjanwrites/2008/07/free-download-e.html
Source 2: http://www.myspace.com/emilianatorrini