That's the best news for months!! After TVR being out of business for some time they seem to be back in business now – they even presented the new Sagaris 2008 modell yesterday.
"Announced this morning by TVR Managing Director, David Oxley, at an exclusive preview event held at the new TVR development works in Lancashire, England – TVR Production has resumed!
Upon the momentous occasion, which included invited members of the TVR Car Club, TVR staff presented the TVR Sagaris model year 2008. Exterior design has remained the same except for new 5 spoke wheels, while the interior receives a new center console with satellite navigation.
As promised back in 2006 by TVR owner, Nikolai Smolenski said "My intention is to expand the sales and distribution of TVR cars throughout Europe, the rest of the world and USA markets is a key part of the business strategy of the company." Built as a left hand drive model, the 2008 Sagaris confirms it will be exported internationally.
Preliminary pricing puts the 2008 TVR Sagaris just below 85.000 Euros."
So now the only thing I need is the money to buy one of these beasts… I'll have one in black or white :-)

the re-designed interior included satnav…touchscreen…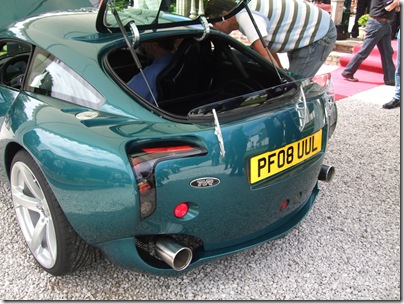 …and re-designed exhausts… I actually liked the side-exausts better…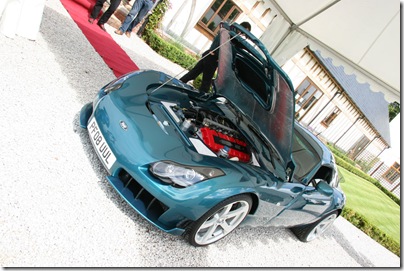 the new bonnet … and the gorgeous speed six…*raaawwr*
Source 1: http://www.worldcarfans.com/9080710.012/page1/tvr-production-restarts—2008-sagaris-presented
Source 2: http://www.tvr-car-club.co.uk/tvrpreviewevent.asp