Michael O'Donovan has a great benchmark-comparison of the brand new Hyper-V and the older Virtual Server 2005 R2:
"I have done a fair amount of SharePoint demos and developement over the past few years, and have always done this on my laptop using Microsoft Virtual Server 2005 or Microsoft Virtual PC, to host and run a SharePoint environment. Last year at Tech-Ed, while I was doing a demo, I had a comment from someone in the audience "Why is SharePoint so slow?" To some degree it makes sense, the specific SharePoint virtual environment which I was using at the time had almost every product known to man installed (the virtual hard drive size was 40GB), as well as being a domain controller and running on a laptop which only had 1GB ram assigned to the virtual machine. However, with the RTM release of Hyper-V (on Windows Server 2008), I wanted to see if performance was better now."
One graph from his article: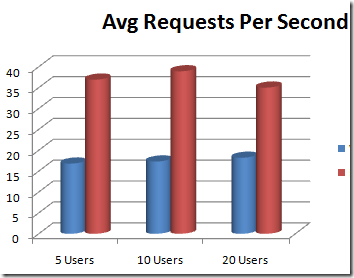 Guess now – which color is which product?
Source: http://blogs.msdn.com/modonovan/archive/2008/07/09/sharepoint-under-hyper-v-versus-virtual-server-2005-r2.aspx