I often have to share files with people – files which most of the time can be publically accessible – the problem is though that it's far to much copy-n-paste involved to get the file uploaded and the URL of the file put together. I just made my life a bit easier and invested some minutes to write a small "DropBox" application that uses a custom webservice hosted on one of my machines to upload, list and delete files and to allow users that have the correct URL to download files.

The path scheme is obviously just that I added a dropped folder in which the files will be stored and the webservice itself – that's all on the webserver machine (having this folder setup as a website using ASP.NET 2.0)
For the client I wrote this little app: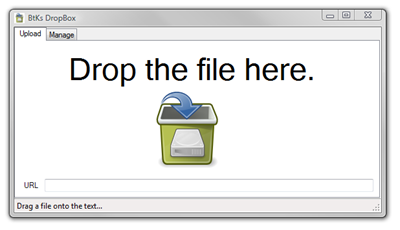 It's no rocket science but it's a good example for a small app that utilizes a webservice. If you want to use it you have to configure the webservice and the Client Application:
for the webservice:

You have to adjust the paths, URLs and the Password.
for the application: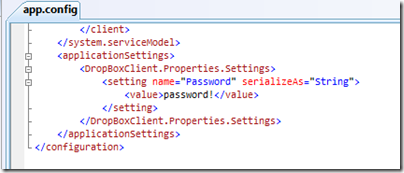 You just have to set the right Password.
If you're set everything up correctly you should be able to drop files onto the Client Application window and get them uploaded to your webserver – the URL is automatically in your clipboard when everything worked.
If you click on the "Manage" tab in the Client Application you can get a list of all files on the server – clicking on the name of the file will automatically add the url to that file to your clipboard – if you want to delete a file – just click on it and click "delete selected file".
The code can be considered public-domain and can be downloaded here.

I used the open-source icons from the Tango Desktop project to make a simple icon for the client application.
Source 1: DropBoxService-v1.rar (94,09 KB)
Source 2: http://tango.freedesktop.org/Tango_Desktop_Project