I wrote about Levelhead and it's stunning concept not long ago. Now you can play with it's code and try it for youself: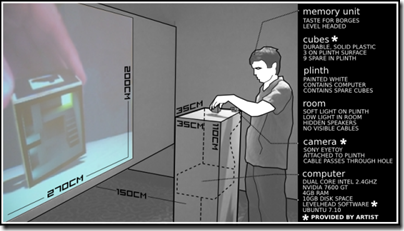 "First thing's first, this is a developer release and needs to be compiled. It has many third-party dependencies from the renderer to the video capture context. As yet there is no lovely statically linked binary of levelHead or automagical build script for a folder of dependencies. Nonetheless, I've installed levelHead on many (Ubuntu) systems now and what's listed below should work fine for you.
levelHead is known to build on Ubuntu 7.10/7.04 and Debian Etch systems against the following external dependencies. It's adviseable you adhere to these versions if you want to avoid going spontaneously mad"
The site goes on:
"Code and assets are provided under two differing licenses: the code is governed by the GPLv3 and the art is covered by the GPLv3 compatible CC-BY_SA 3.0. Make sure you understand what that implied before downloading this project. For the rationale as to why I chose this configuration, please read the comments in the top of the levelHead.cpp file itself. Both art and code are available in a subversion repository, aquired with the following command:
svn co http://www.inclusiva-net.es/svn/levelhead "
Since I will try it myself (installing Ubuntu now) – I will give a detailed tutorial about it in the future…at least I hope so.