…they eventually start making their own layout of your site… And you cannot do anything about it but listening to them!
A few days ago a big it-news site in germany relaunched it's site with a new fixed-with-all-left layout. And more than 3000 comments by users had one and only thing to say: We don't like it.
They disliked it that much that a few sat down and created their own site layouts by using firefox plugins like "stylish" – where you can create your own styles for sites.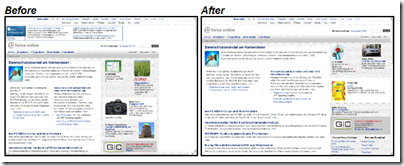 I always wanted to see what these style-altering plugins can do but I never had the drive to think me into it…